We had a great time in San Francisco this weekend. We took off on Saturday evening and had the most amazing sunset right outside our plane window.






Right after we landed we headed straight to the Great American Music Hall to see Joshua Redmond and Nicholas Payton. We cooled out with some drinks and awesome jazz music. It went on until almost 1am. I was very impressed with the old theater venue and also with the bands. They were amazing.

After the concert, we were walking to the car when a crazy man jumped in front of me and yelled "IT'S SATURDAY NIGHT, GET YO FREAK ON!" Gotta love the big city.

The we headed back to their house where I got to see Lou, their dog. A face only a mother can love.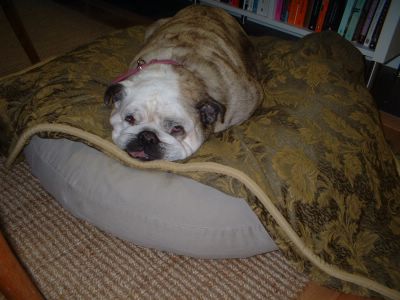 The next morning we had some breakfast, walked around the neighborhood and did some shopping. I got me some cute Nine West shoes for work and some pink & green Converse All-Stars. It was a lovely day for shopping. There's me & Shelly taking a break from shopping and enjoying the 72 degree sunny weather. I hate pictures of me when I'm in mid-sentence.






Later that day we headed down to Golden Gate Park for the Stern Grove Festival. It's a series of free summer concerts that take place every Sunday at the most amazing park. We heard John Doe, formerly of the band, X, and Lucinda Williams perform. We packed a picnic which included lots of wine, beer & goodies. There were thousands of people there, I'm not even kidding.






Later on we enjoyed a lovely German dinner and tried very hard to watch a movie we rented. I only made it about 5 minutes into the movie before falling asleep. Lots of activities packed into 72 hours make me sleepy.